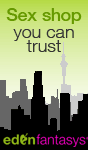 I thought it was about time for a reminder to myself that I need to take a step back sometimes and remember that I am more then just a mother and an administrative assistant. Too many times I forget that I am also woman and wife. Lately I have been overwhelmed and stressing myself out, which sadly I happen to do WAY too much of the time. I am beginning to realize that one of the problems in my life is that my husband and I do not connect as often as we should.
Cue
Eden Fantasy
and their ambassador's program where I am able to request a product in exchange for a blog post. The best part of the program is that I do not need to blog about the product itself if I do not want to, but just about the site itself. Last time I choose the game 101 Nights of Great Sex to help my husband and I connect, we are still working on the 101 nights! This time I chose something a little more personal and since this is a family blog we will not focus on the item but instead focus on the wonders of the site.
Great feature # 1:
Eden Fantasy
Eden Fantasys has something for everyone. They have games, toys, oils, books, DVDs, lingerie and even items for your wilder side, in other words something for everyone.
Great feature #2: Discretion. Now I have purchased items in the past and my biggest concern was if my neighbors, mailman and apartment office would be privy to my private life. With
Eden Fantasy
Eden Fantasys there is no need to worry; I actually did not know what my first item was until I opened it!
Great feature #3: Fast shipping. One of the other reasons besides the plain packaging that I did not realize what my package was is that it came very fast. People who know me know that I have very little patience so if I thought it was fast then it was.
Great feature #4: Great customer service. Although I only dealt with one person who handles the ambassador program she was very nice, helpful and prompt in her responses. I like to think that everyone else is like her.
If you are looking to connect with your husband more check out
Eden Fantasy
Eden Fantasys; who knows you may find a great Christmas gift for your husband or better yet yourself!