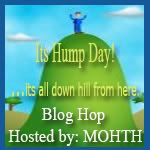 Link up your Blog, Facebook, Twitter, Giveaway, Networked blogs or Blog Frog links
HERE
Rules:
1. Follow your hosts Mommy Only Has Two Hands and Unexpected Motheron the linky form, which could be twitter, blog, facebook page, Network Blog or Blog Frog, depending on what you link up below.
2. Retweet/facebook, Friend Feed, Dig, stumble, whatever this hop. You can do this with my tweet button in the top left corner of this post or with the sexy bookmarks widget at the bottom of this post. The more people who know about this, the more fun it is...and the more followers.
3. Follow who ever follows you! Of course you might have to initiate a follow by following people on the linky.
If you follow me, leave a comment below and I will follow you back.